MyHouseIdea: Schani Salon by Archisphere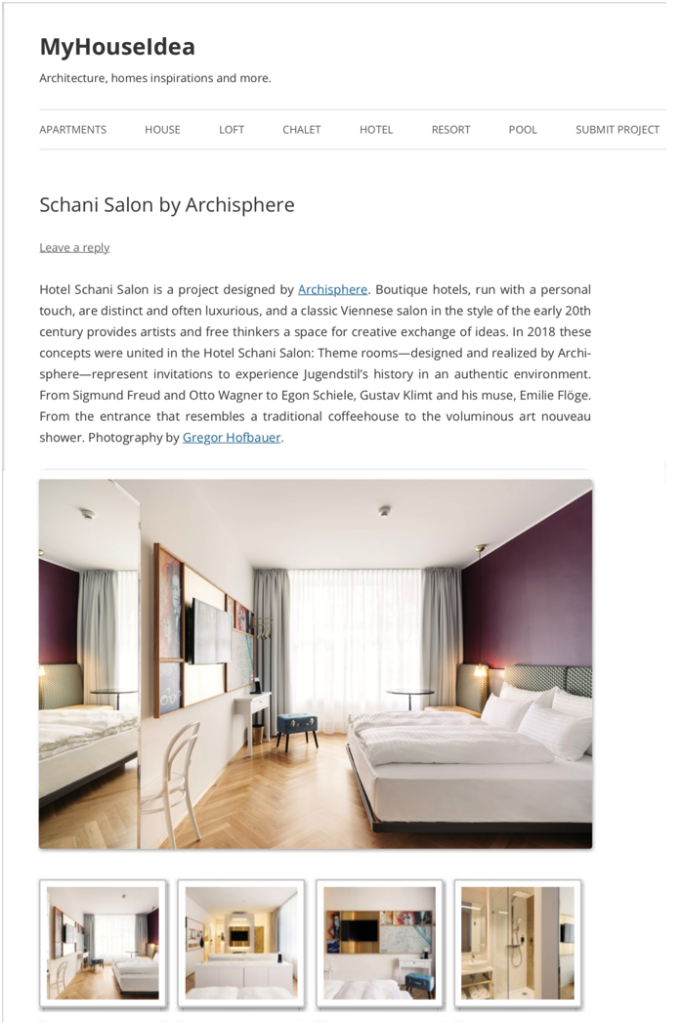 "Boutique hotels, run with a personal touch, are distinct and often luxurious, and a classic Viennese salon in the style of the early 20th century provides artists and free thinkers a space for creative exchange of ideas. In 2018 these concepts were united in the Hotel Schani Salon..."
Legendary: Seeglück Hotel Forelle on Lake Millstatt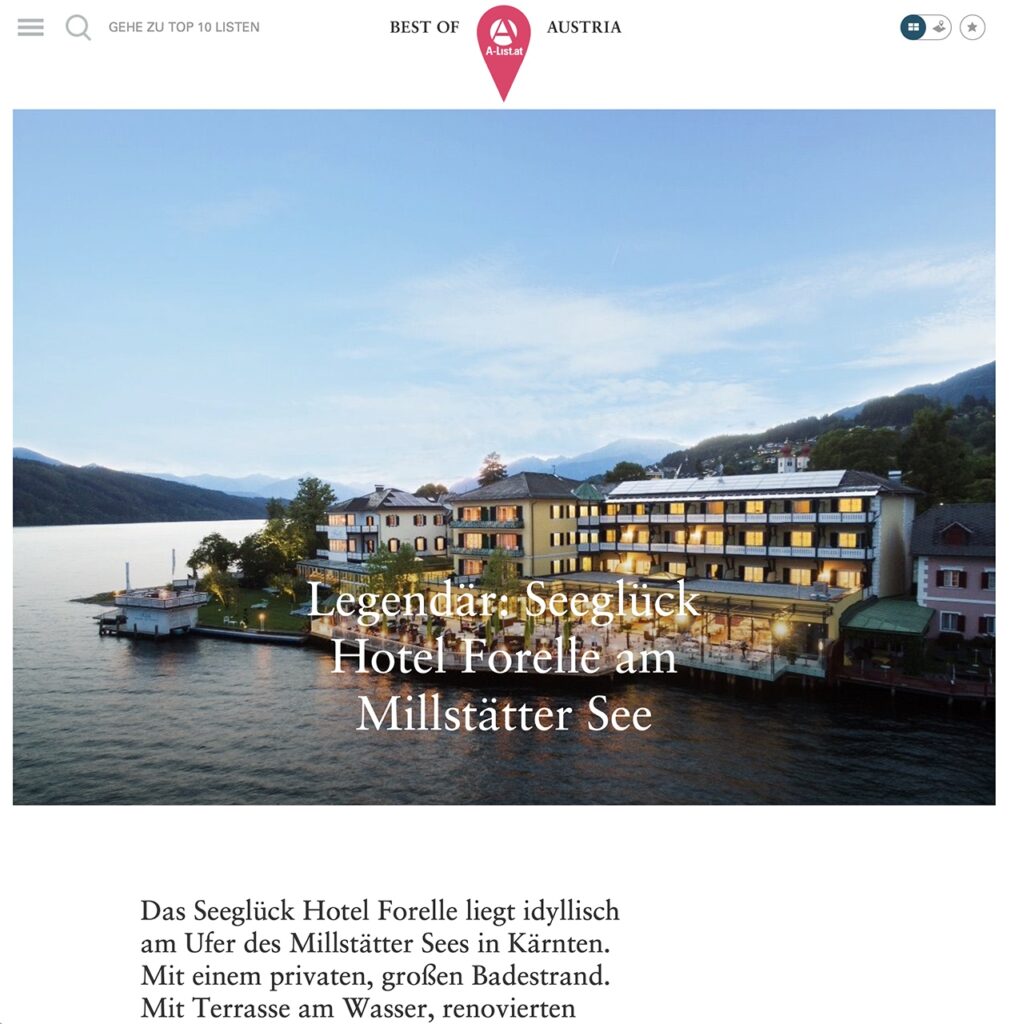 "Seeglück Hotel Forelle" is idyllically located on the shores of Lake Millstätter See in Carinthia. With a private, large bathing beach. With a terrace on the water, renovated rooms and its own fish farm, which has been writing history for a very, very long time."
Hotel Schani Hauptbahnhof in Vienna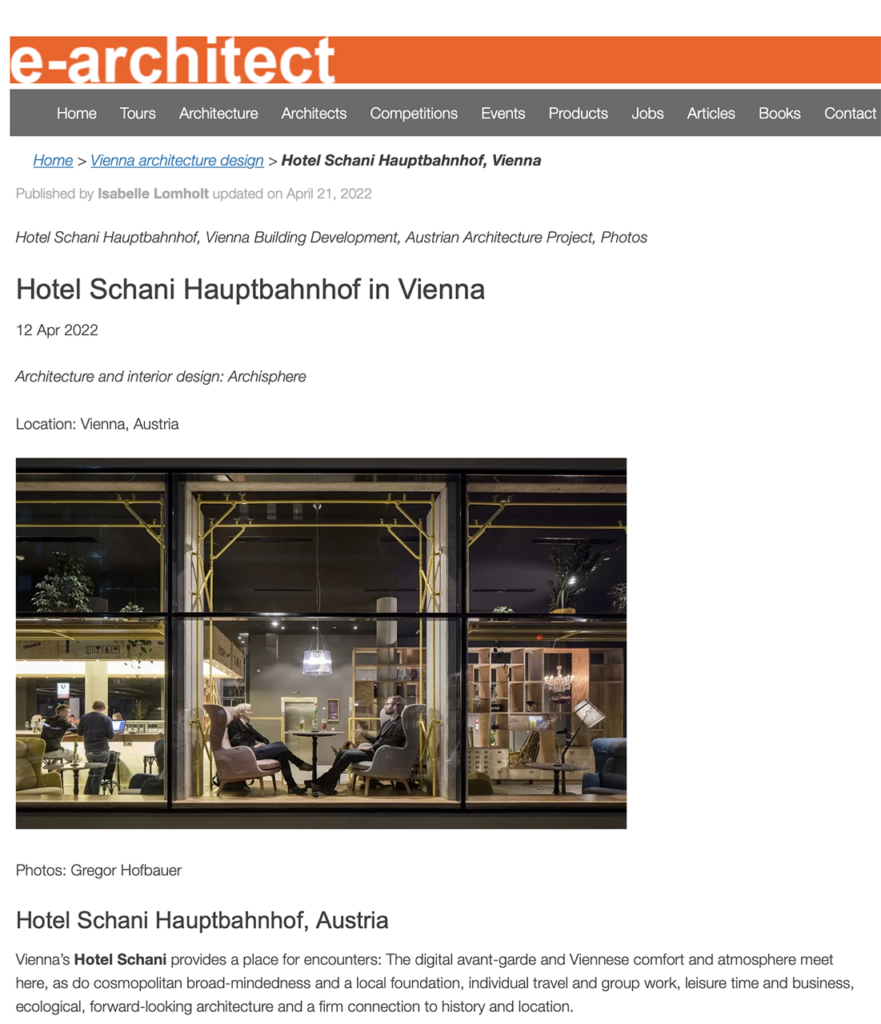 The hotel with an innovative spirit-designed and realised by Archisphere-opened in April 2015, and in 2019 a rooftop event space was added.
"Purpose fulfillment is no longer the end in itself".
hotel construction
September 2021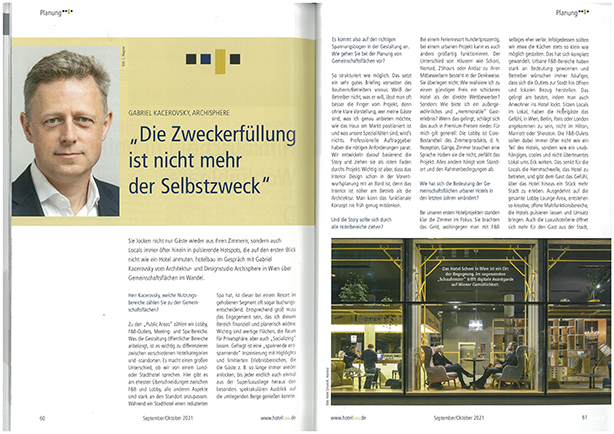 They not only lure guests back out of their rooms, but also locals more and more often into vibrant hotspots that don't look like a hotel at first glance. hotelbau talks to Gabriel Kacerovsky from the architecture and design studio Archisphere in Vienna about shared spaces in transition.
Andaz Hotel: Casual luxury in the Belvedere district
"The Andaz Vienna at Quartier Belvedere directly opposite the Schweizergarten is luxury hotel with restaurant, lunch bistro and rooftop bar with dream views of Vienna."
Art Nouveau in the Hotel Schani Salon in Vienna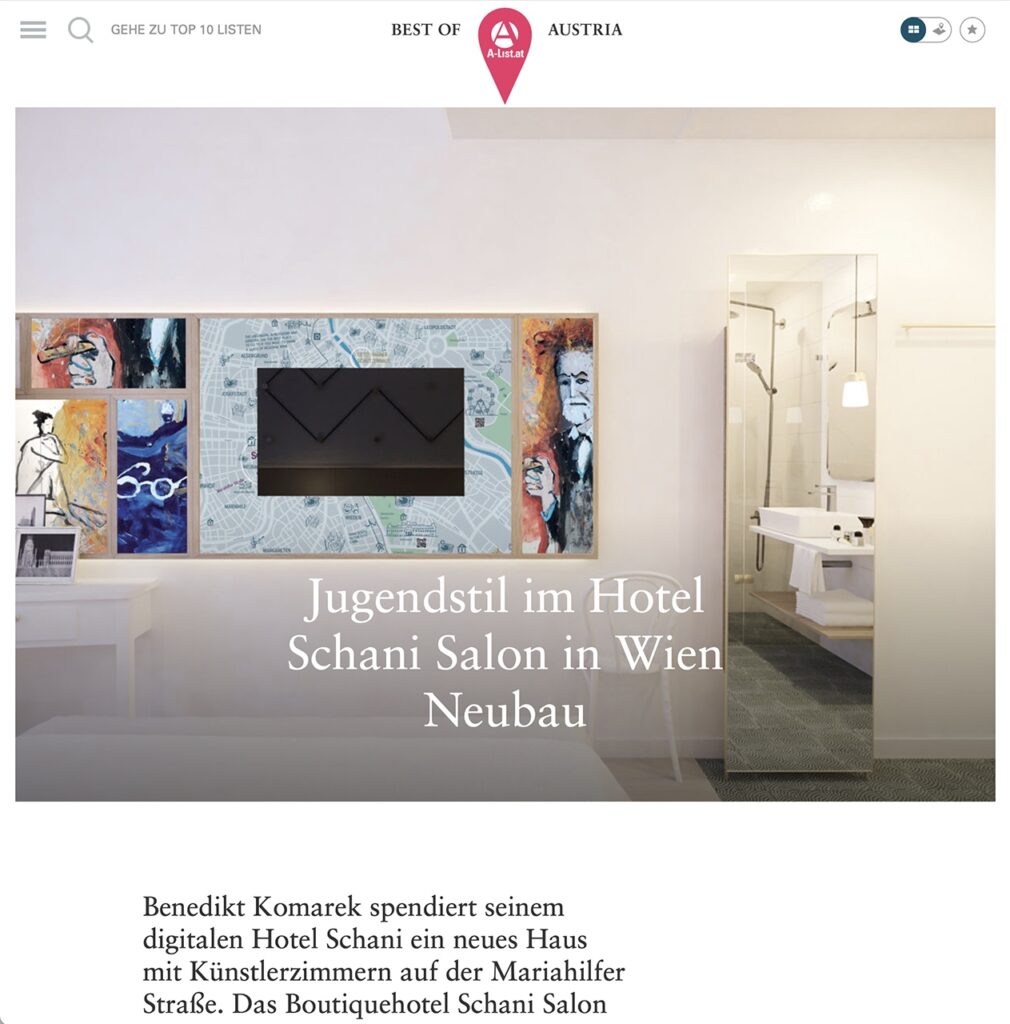 "The smartphone as room key, coworking space in the lobby or the SchaniBot robot."
Falkensteiner: Holiday for adults in Stegersbach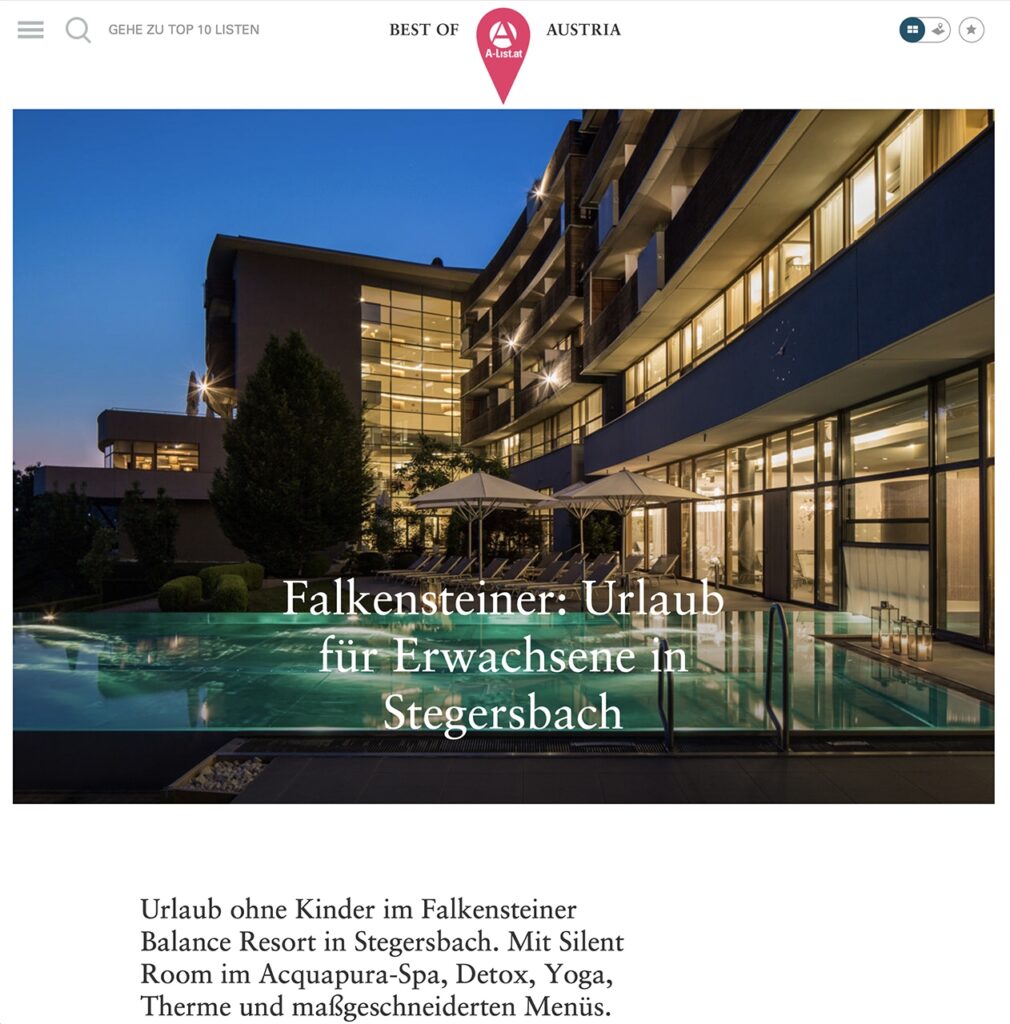 "Vacation without children at the Falkensteiner Balance Resort in Stegersbach. With Silent Room in the Acquapura Spa, Detox, Yoga, Therme and customized menus."
Andaz Vienna Am Belvedere: Places of well-being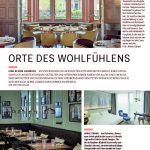 "This new hotel plays in the Luxury & Lifestyle league and is part of the Hyatt Group."
Falstaff Living
June.2019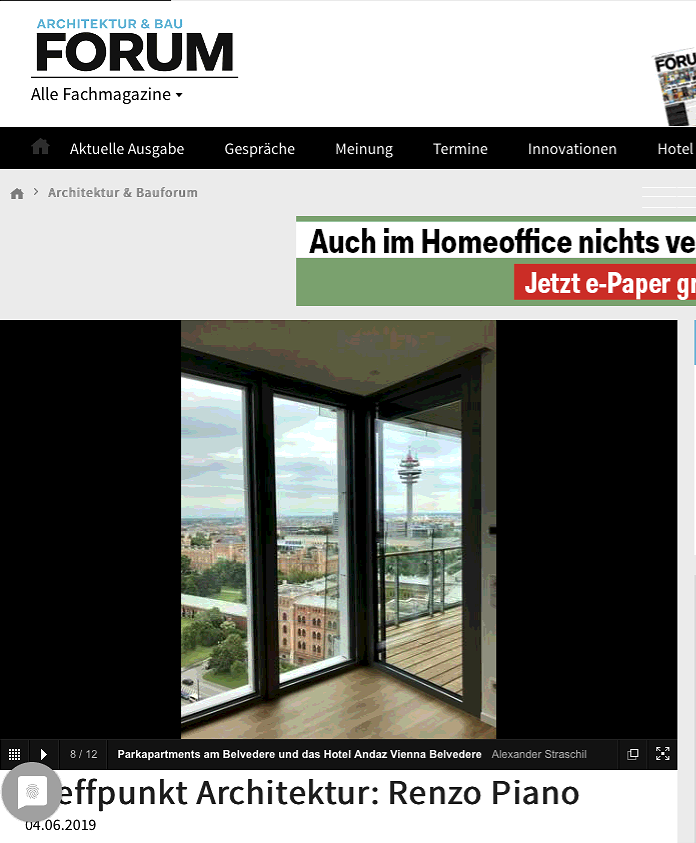 "The residential and hotel complex planned by Pritzker Prize-winning architect Renzo Piano and his team, the Renzo Piano Building Workshop (RPBW) with headquarters in Paris, had only recently been opened. The interest in visiting Renzo Piano's first and so far only building in Austria was therefore correspondingly great - but the number of participants was unfortunately limited to 50 people."
"Whether it's Translation or the Grand Budapest Hotel - numerous gems of cinema history are set in the hotel as a place to be seen. But what does this place look like in the digital modernity of 2019? On the occasion of the opening of the Andaz Hotel at the Belvedere in Vienna, we spoke with the architects and interior designers Carmen Dumitrescu and Gabriel Dumitrescu from the Viennese architecture firm Archisphere about current trends, the Airbnb phenomenon and Prince Eugene's living room."